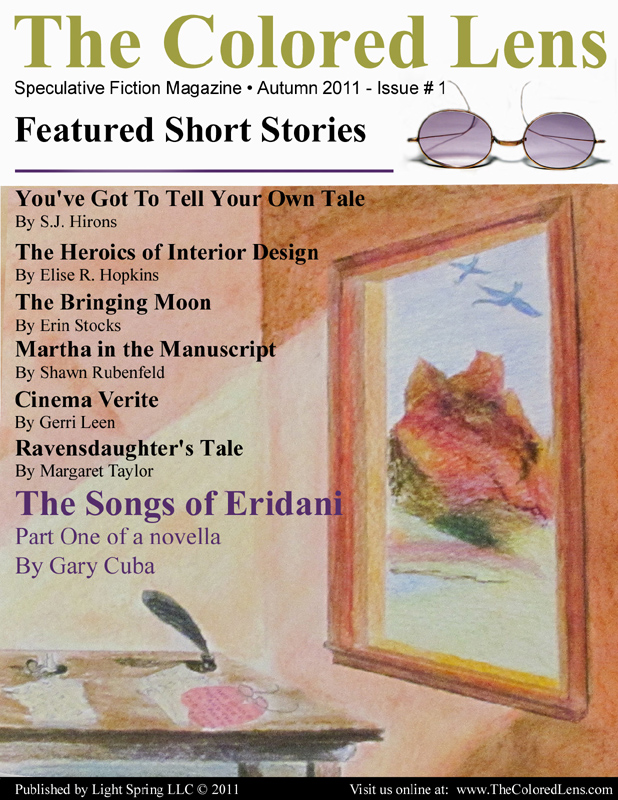 When the editorial team here at The Colored Lens sat down and started thinking through the myriad of decisions involved in putting together a magazine, I confess I had my doubts and fears. I worried that our theme of shifting perspectives on the world would be either too limiting or too conversely too generic. I worried that we wouldn't get very many quality submissions. I worried that we wouldn't find a reader base. I even worried that we might blow up over creative disagreements among the editorial staff.
Now, as we debut our first official issue, I find my concerns to have been so far from the reality that I can only laugh. There have been no blow-ups, or even real disagreements. We've got the start of a reader base. We've had a plethora of great submissions. And we've put together an excellent handful of stories that do, indeed, help us see the world just a bit differently than when we started the story.
In Margaret Taylor's "Ravensdaughter's Tale," we see the magic that can come from friendships, even in the least expected of ways. Gerri Leen's, "Cinema Verite" shows us the value of memories, and the cost they can carry. Erin E. Stocks' "The Bringing Moon" offers a different kind of cost for the things we hope for. Shawn Rubenfeld's "Martha in the Manuscript" shows us how difficult escaping the past can be. S.J. Hirons' "You've got to Tell Your own Tale" reminds us of how magical a world can be, and how differently it can be interpreted. Elise R. Hopkins' "The Heroics of Interior Design" reminds us what it's like to be on the fringes of society. And the first half of Gary Cuba's novella "Songs of Eridani" introduces us to a world that leaves us questioning what the true dangers are.
We're excited to present the first issue of The Colored Lens, and hope you enjoy reading it as much as we have enjoyed bringing it to you.
The Colored Lens is a quarterly publication featuring short stories and serialized novellas in genres ranging from fantasy, to science fiction, to slipstream or magical realism. By considering what could be, we gain a better understanding of what is. Through our publication, we hope to help readers see the world just a bit differently than before. The Colored Lens #1 – Autumn 2011 is available for only $0.99 in e-book format for Kindle or Nook. Read a free sample of this issue in your Google Chrome or Safari web browser by clicking here.